8 College Tuition Costs You Really Need to Measure [2019]
According to Lending Tree, the average cost of college in the US is $20770 annually for in-state colleges and $46950 at private schools (non-profit).
This guide will help you evaluate a full list of college tuition costs based on real data and your personal priorities. This primarily covers money factors, but also intangibles like entertainment options.
So if you're still considering lots of different colleges, you're going to be able to narrow down that list right away. And if you're aren't at all sure where to start, I'll give you an easy tool to start your research.
Let's get started!
College Tuition Costs Table of Contents:

Location is the biggest factor affecting college tuition costs, and there are HUGE differences in value.
In this chapter I'll break schools down into a list of college tuition costs based on the type of organization. Keep in mind that these numbers are the average total cost of college ONLY.
The most important number for college costs is the net price, which gives you a sticker price after scholarships and grants are considered.
You can find that for any college using a net price calculator.
There's also a bonus section to compare different US Regions based on culture and cost:
Private For-Profit
Private Non-Profit
Online
On-Campus
Trade Schools
Public In-State (tuition only)
Public Out-of-State (tuition only)
Community College
BONUS Comparison by US Region
And I'm going to walk you through the benefits and drawbacks of EACH ONE.
Keep reading..
Private For-Profit
Knowing the Benefits
Easy to get financing, esp. student loans
High graduation rates in two-year programs
Online course leaders maximize convenience
Online only options eliminate room + board, cost of relocation
Keeping it Real about the Drawbacks
More expensive than private non-profit
Questionable degree value
Higher unemployment than state school
Let's Calculate the Average Total Cost of College Per Year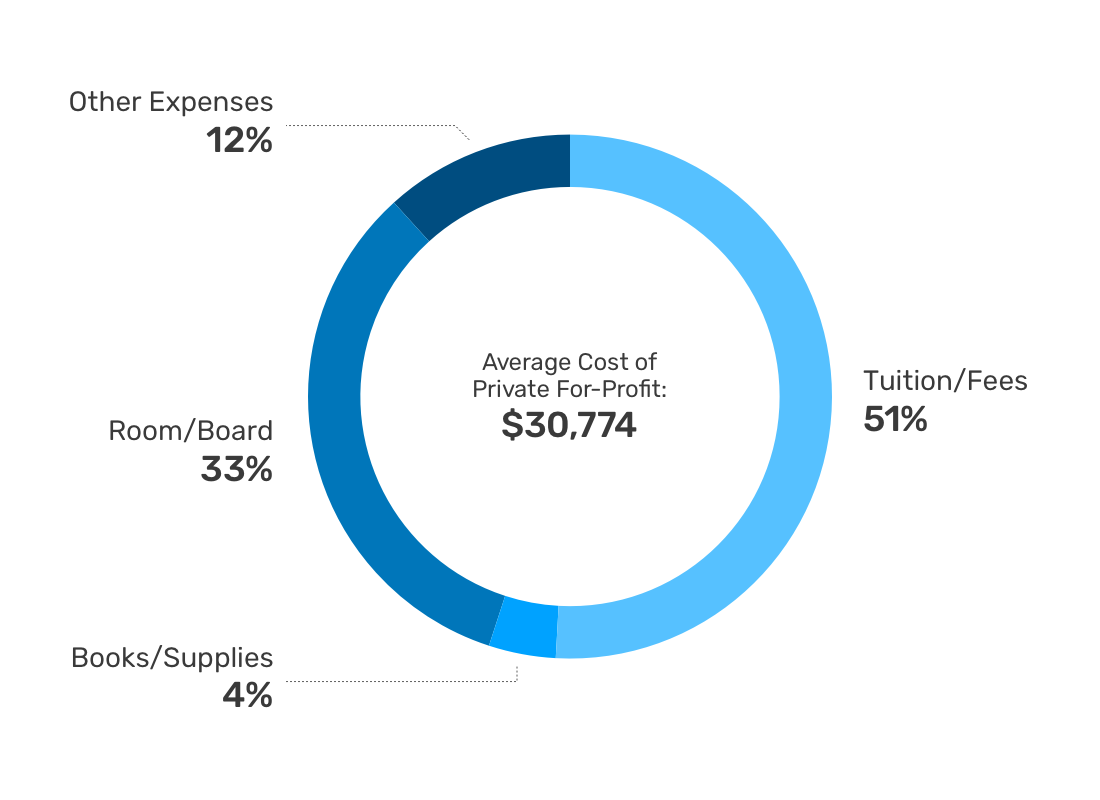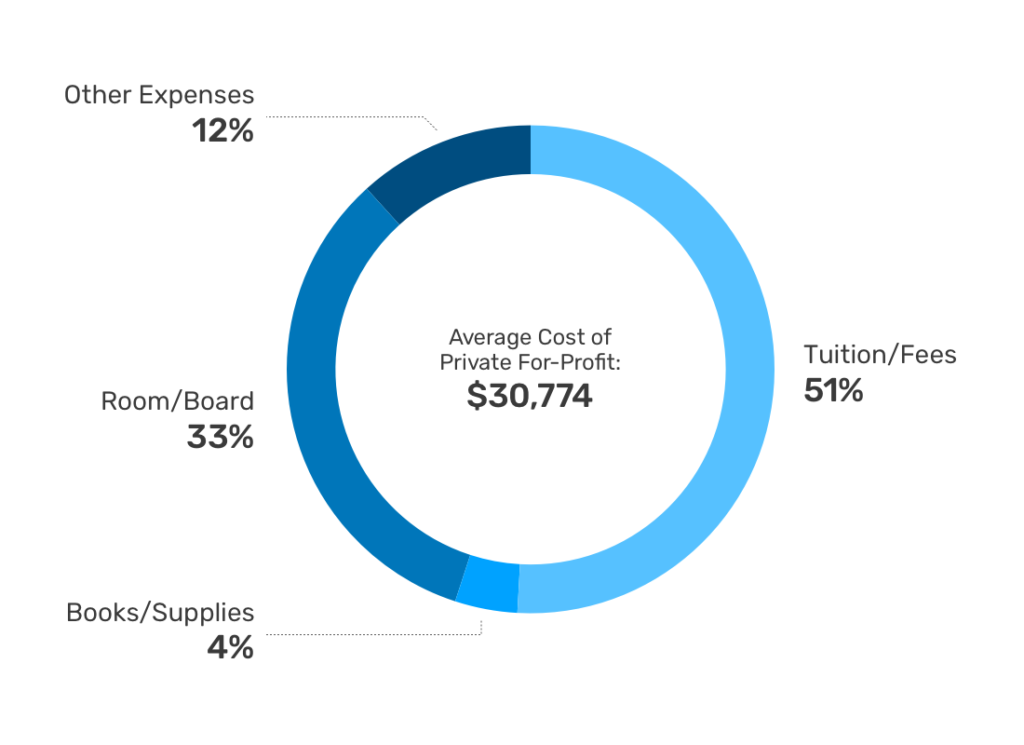 Source: College Tuition Compare
What's the 2-second bottom line?
If you have a low GPA or served in the military, Private For-Profit colleges may be a good option.
Private Non-Profit
Knowing the Benefits
Social atmosphere / Personal relationship development opportunity
Job fairs, networking opportunity, supportive alumni network
Wide range of courses to enroll in
Employer prestige
Keeping it Real about the Drawbacks
Difficult to transfer credits
Homogeneous population
Demanding schedule
Let's Calculate the Average Total Cost of College Per Year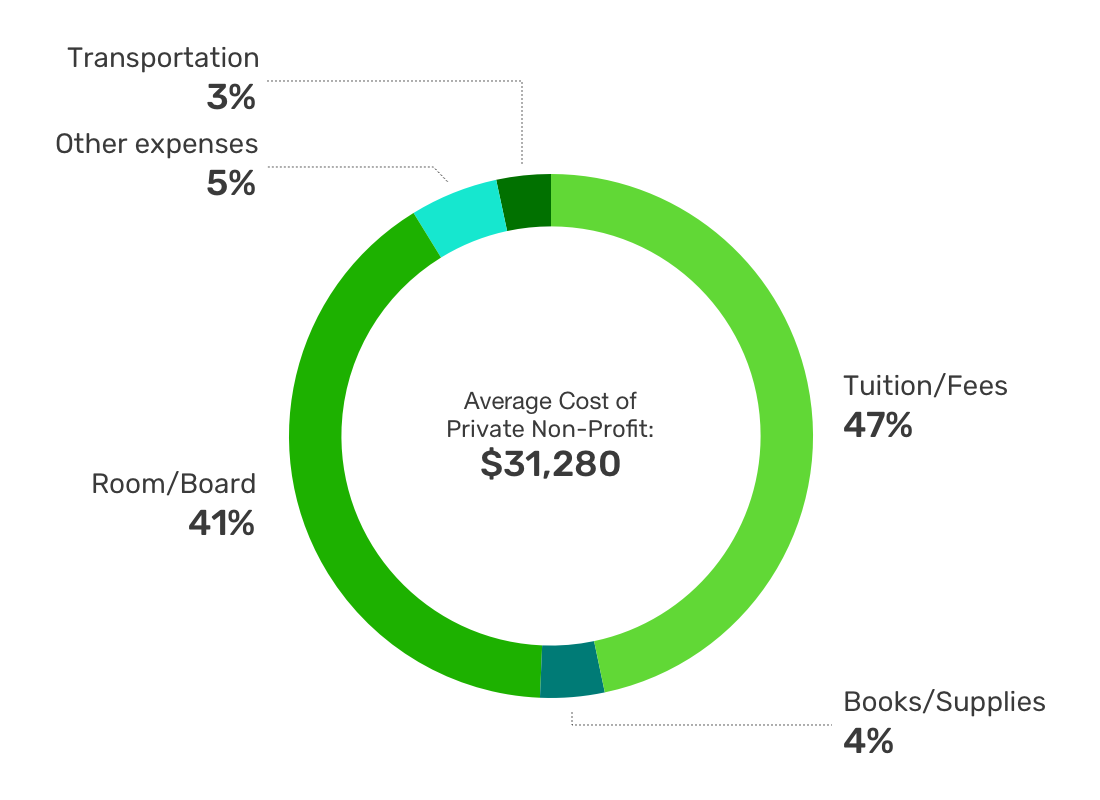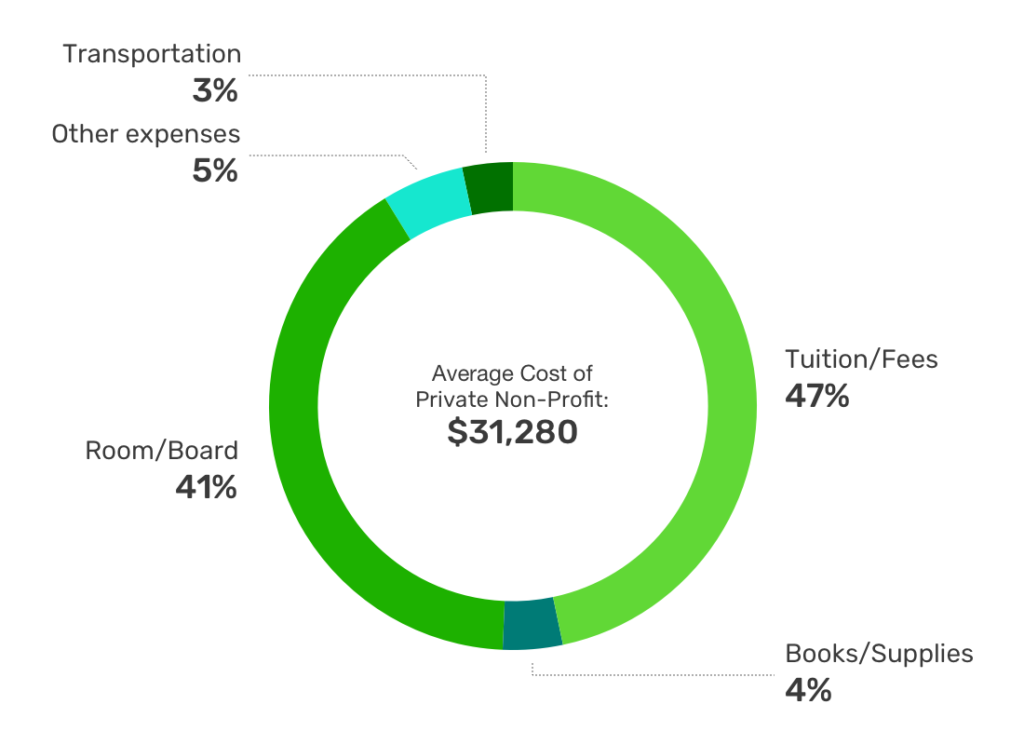 Source: Credible
What's the 2-second bottom line?
If you wish to join a specific program and plan to stay in school a long time, Private Non-Profit colleges can work well.
Online
Knowing the Benefits
Study on your own time
Lower costs
Builds responsibility and self-discipline
Keeping it Real about the Drawbacks
Very little peer interaction
Lack of personal contact with teacher
Student must verify quality / accreditation
Let's Calculate the Average Total Cost of College Per Year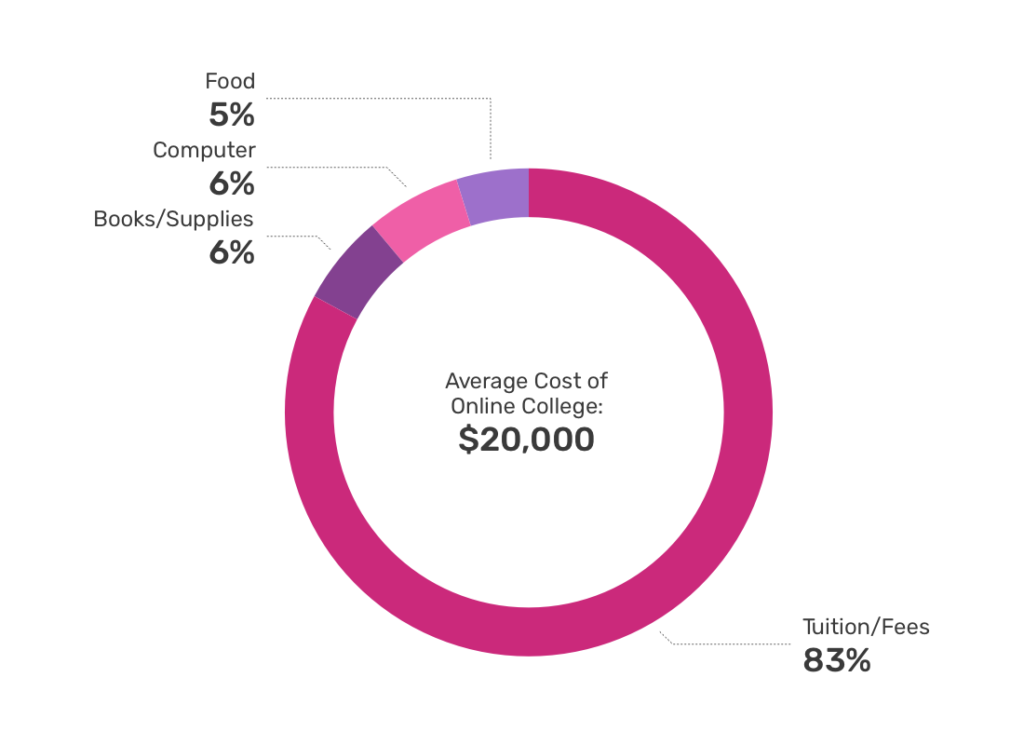 Source: Affordable Colleges Online
What's the 2-second bottom line?
If flexibility is your number #1 priority, nothing can beat working at your own pace online.
On-Campus
Knowing the Benefits
Vibrant campus life, gym, dining hall
Very little transportation needed
Automatic friends to help you study (better grades)
Keeping it Real about the Drawbacks
On-campus amenities significantly boost cost
Little privacy, individual space comes at a premium
Have to move out during winter and summer breaks
Let's Calculate the Average Total Cost of College Per Year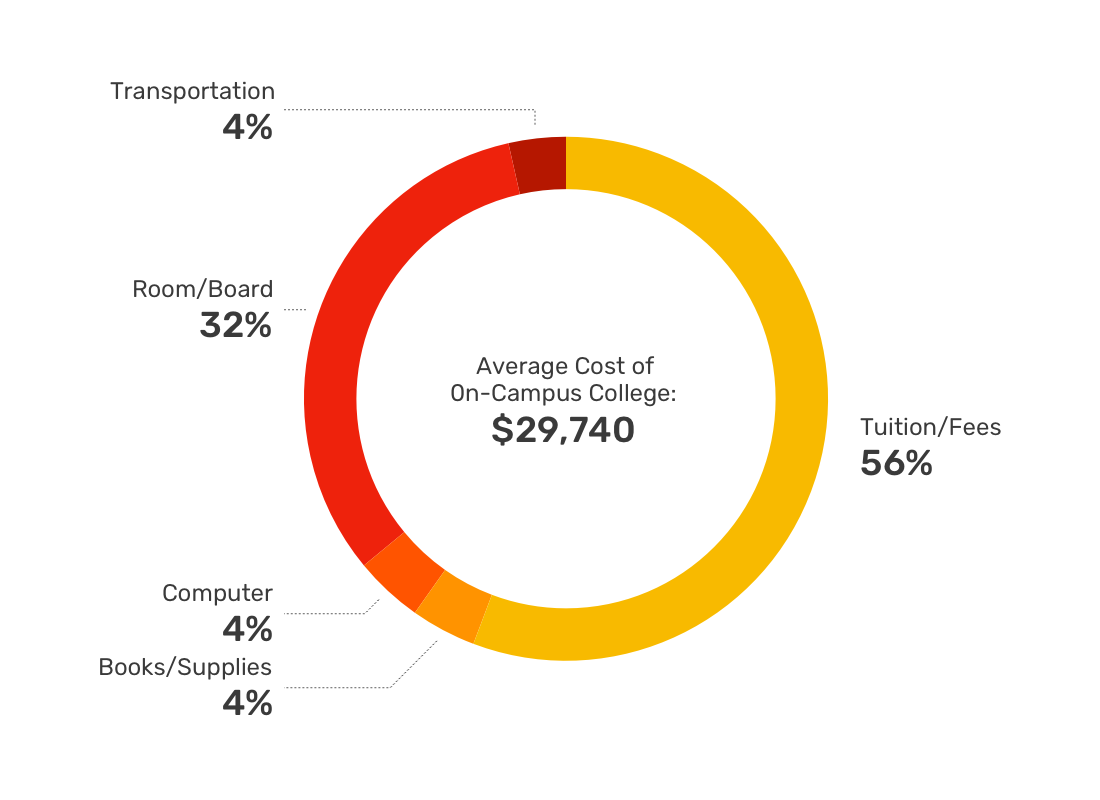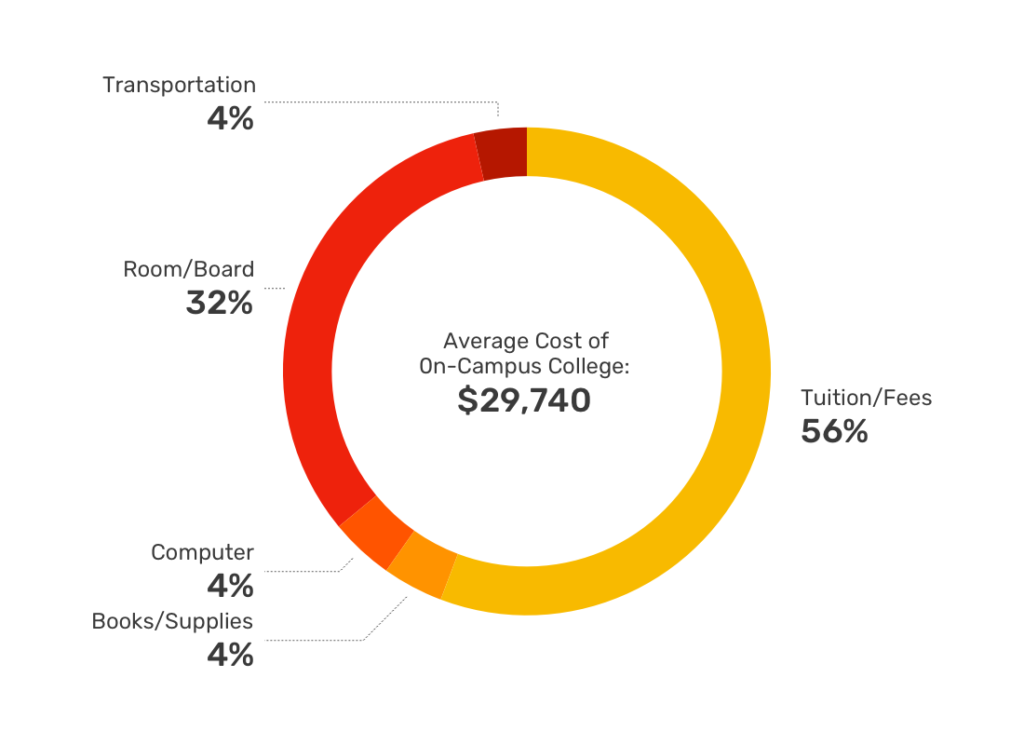 Source: Affordable Colleges Online
What's the 2-second bottom line?
If you like networking and making lifelong friends, on-campus colleges will help as well as in pursuing white collar jobs and a liberal arts degree.
Trade Schools
Knowing the Benefits
Less than ⅓ of new jobs will require college degree
Trade school covers immediate job needs for:

Plumbers
Electricians
Welders
Healthcare technicians

Can be completed in 6 weeks – 4 years
Keeping it Real about the Drawbacks
Limited critical thinking classes
Limited upward career mobility
Susceptible to changes in job market supply and demand
Let's Calculate the Average Total Cost of College Per Year
Varies greatly, $3,000 – $15,000
Source: Trade-Schools.net
Here's the Price per Program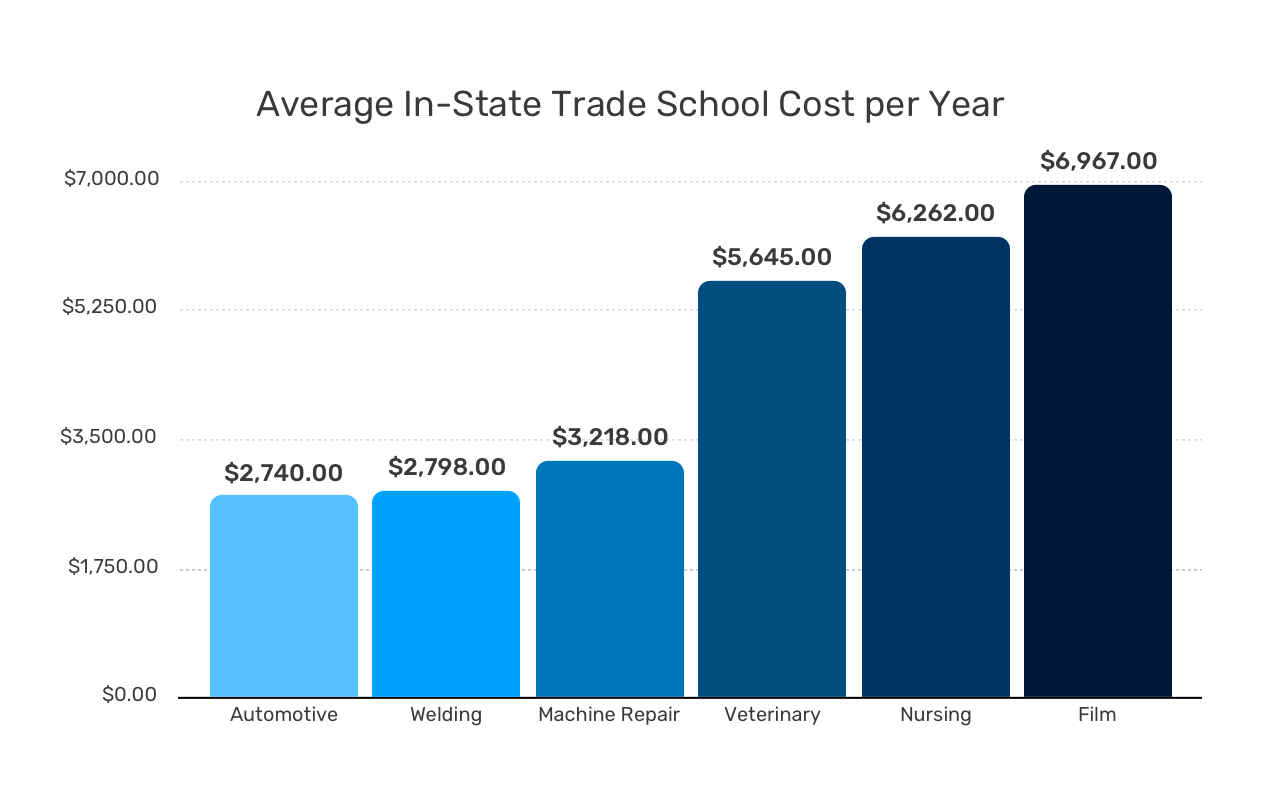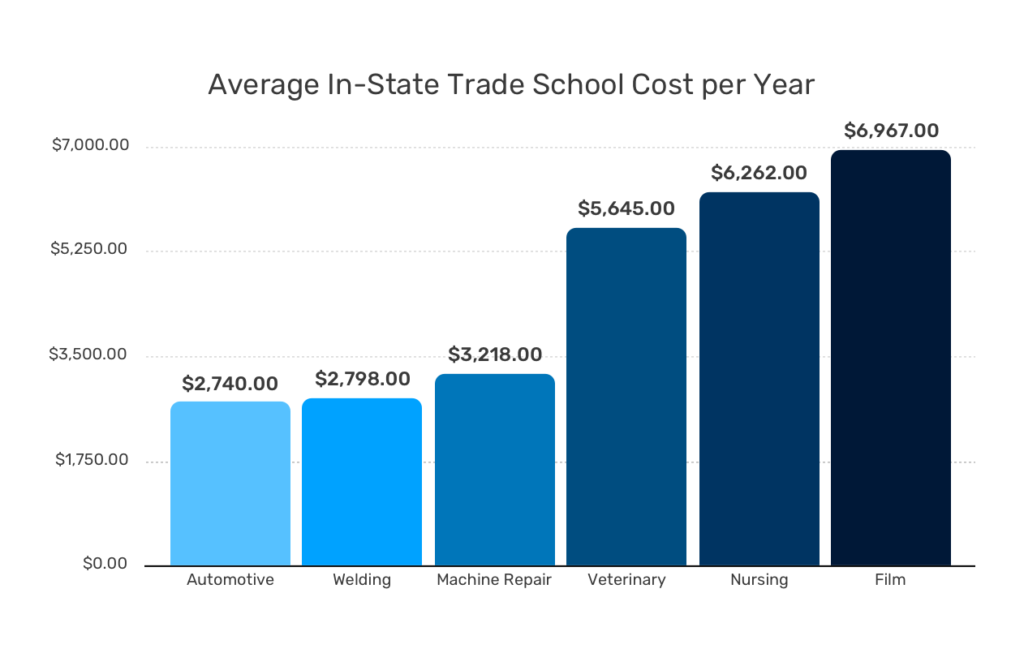 Source: Real Work Matters
What's the 2-second bottom line?
If you hate student loans with a passion and prefer to live pragmatically, this deserves serious consideration.
Public In-State Tuition (tuition only)
Knowing the Benefits
Cost-effective tuition
Predictable education path
Easy enrollment
Keeping it Real about the Drawbacks
Going to school with your high school classmates
Limited academic options
Lack of degree prestige
Let's Calculate the Average College Tuition Price
$10,202
Source: College Board
What's the 2-second bottom line?
If you want a traditional (and affordable) college experience, public in-state colleges are the best option.
Public Out-of-State Tuition (tuition only)
Knowing the Benefits
Possibility of reciprocity programs
You choose the college experience
Bigger adventure possibilities
Keeping it Real about the Drawbacks
Long travel times to return home
Higher tuition than in-state options
You will be the outsider
Let's Calculate the Average College Tuition Price
$25,714
Source: College Board
What's the 2-second bottom line?
If you really want to get away from home and can land some nice scholarships, this option could work well.
Community Colleges
Knowing the Benefits
Extremely affordable
Can transfer credits towards bachelor's degree
Improve your transcript to get merit scholarships
Easier work-life balance
Keeping it Real about the Drawbacks
Lame campus life
Limited course offerings
Lack of networking opportunity
Let's Calculate the Average Total Cost of College
$3,347
Source: Affordable Colleges
What's the 2-second bottom line?
If you want to avoid student loans and still get a 4-year degree, this powerful option saves major cash.
Bonus Comparison by Region
East Coast
Knowing the Benefits
4 distinct seasons
Cosmopolitan people
Many historic landmarks
Keeping it Real about the Drawbacks
Older and smaller facilities
Reputation for unfriendliness
Most expensive tuition
Let's Calculate the Average College Tuition Price
$24,000
Source: College Calc
West Coast
Knowing the Benefits
Beautiful weather
Big and modern facilities
Close to the beach and mountains
Keeping it Real about the Drawbacks
Bad traffic and long travel times between cities
Pervasive homelessness
High cost of living
Let's Calculate the Average College Tuition Price
$9,251
Source: College Calc
Midwest
Knowing the Benefits
Strong hospitality
Low cost of living
Easy access to exploring nature
Keeping it Real about the Drawbacks
Truly brutal winters
Tons of cheap alcohol
Lack of cultural development
Let's Calculate the Average Annual Price (tuition only)
$16,176
Source: College Calc
South
Knowing the Benefits
Football and sweet tea
Low cost of living
Civility and chivalry
Keeping it Real about the Drawbacks
Hot and humid
Reputation for racism
Let's Calculate the Average Annual Price (tuition only)
$8,448
Source: College Calc
Which kind of school is the best for you? Now that you have a better idea of the options coming with each kind of system and region, it's time to do some googling.
Here's the search term to use as you begin narrowing down some universities:
Best [for-profit/non-profit] [university/trade school/community college] [East coast/West coast/South/Midwest]

No matter what the college, it's critical to know where you would find a place to call home.
Why is this important?
If you're hungry and going to college, it's going to be really hard to learn.
If the rent is extremely expensive, that's going to take away your energy.
Fortunately, there are some simple research tips to find out what it will be like studying at your school and how much it will cost you to learn in peace.
The most important part of your college costs list starts here:
On-campus Living
Room and board often get covered in student loan packages, which make the costs of living more manageable during the semester.
According to the College Board, you're going to pay $11K-$12K if you stay on campus. However, you will pay more in long-term interest rates for cafeteria dining options and dorms, regardless of whether they are luxurious.
Taking out a loan for room and board, however, is not as bad as having to wonder where your next meal will come from.
To figure out exact room and board costs, use the following search query:
[SCHOOL NAME] + net price calculator


Fill out the form to determine your room and board costs.
This will help conduct a price comparison with your rent research, which will contain fewer expenses, greater independence, and less people cooking for you.
Now:
The net price calculator is a POWERFUL tool. In fact, I recommend that you use it for EVERY college you research because it gives a complete price breakdown of your college tuition costs.
However, the goal of this chapter is to price compare on room and board. We'll cover more how scholarships will impact your net price at a given school in the last chapter.
Off-campus Rent
The cost of your rent depends on:
Location
Apartment Quality
Apartment Size
Quantity of Roommates
The biggest way to save money starts with having roommates.
In contrast, living alone will significantly boost your rent costs.
If you're looking for a place quickly, Campuscribz and Craigslist can help.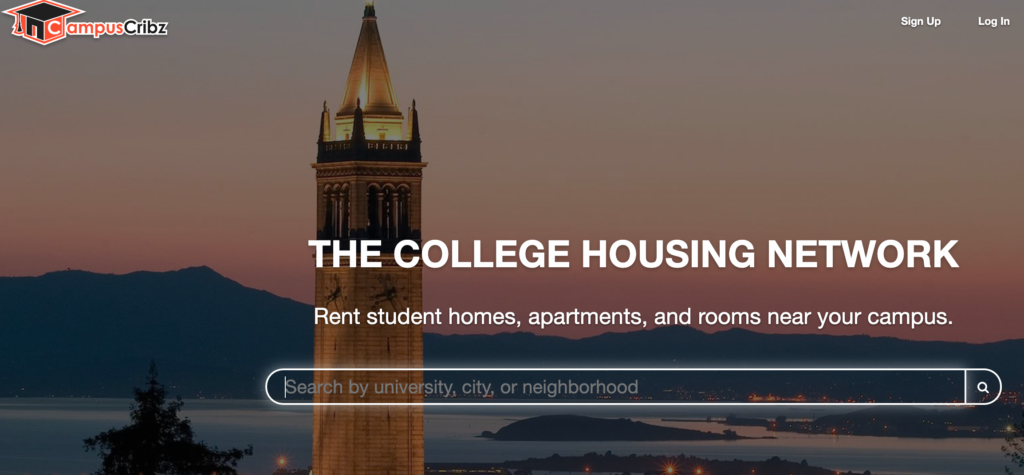 Here are some other recommendations for getting good roommates:
Aim for roommates that you know and share your cleaning habits. Clean roommate + messy roommate = misery. Otherwise…
At the end of the school year, ask your school secretary about other incoming students for the fall semester. Tell her you are looking for roommates who are also in your major.
If you post online, be specific about your ideal roommate qualities:

Cleanliness
Pet preferences
Noise tolerance
Gender preference
Smoking / alcohol / drugs tolerance
What's the bottom line? Make sure you get a place with a hot shower, a restful place to sleep, and good food.

Here's the truth about degree utility:
Not all degrees are created equal.
By the end of this section, you will have a clear ranking for the major of your choice compared to the amount of jobs available once you graduate.
Let's dive in!
Find Growth Projections Based on Profession through 2026
In 2016, the US Department of Labor released a report of detailed occupation growth projections.
And the results were staggering!
Sure, there were a few unsurprising results.
Floral designers work in a contracting industry with 6.4% less jobs available by 2026.
But a lot of people wouldn't expect that there will be 7.2% LESS computer programmers in the same time frame. That's a net loss of 21.3 million jobs!


Now:
Even as computer programming becomes less important, the demand for software app developers will skyrocket by 30.7%.
To complete the next section, you need to download the Department of Labor results for yourself.
You can do that here.
Define the Job Market % Growth Rate for Your Major
Here's how to measure your college major practicality.
Search for a keyword related to your major. For example, "music"
For each keyword, write down the following:

Employment Matrix title
Percent Change, 2016-26
Occupational openings, projected 2016-26 annual average
The power of your degree will depend on the demand for the services you can provide from your education.
The current US growth rate currently sits at .64% annually and has been trending down since 1992 when it was at 1.387%.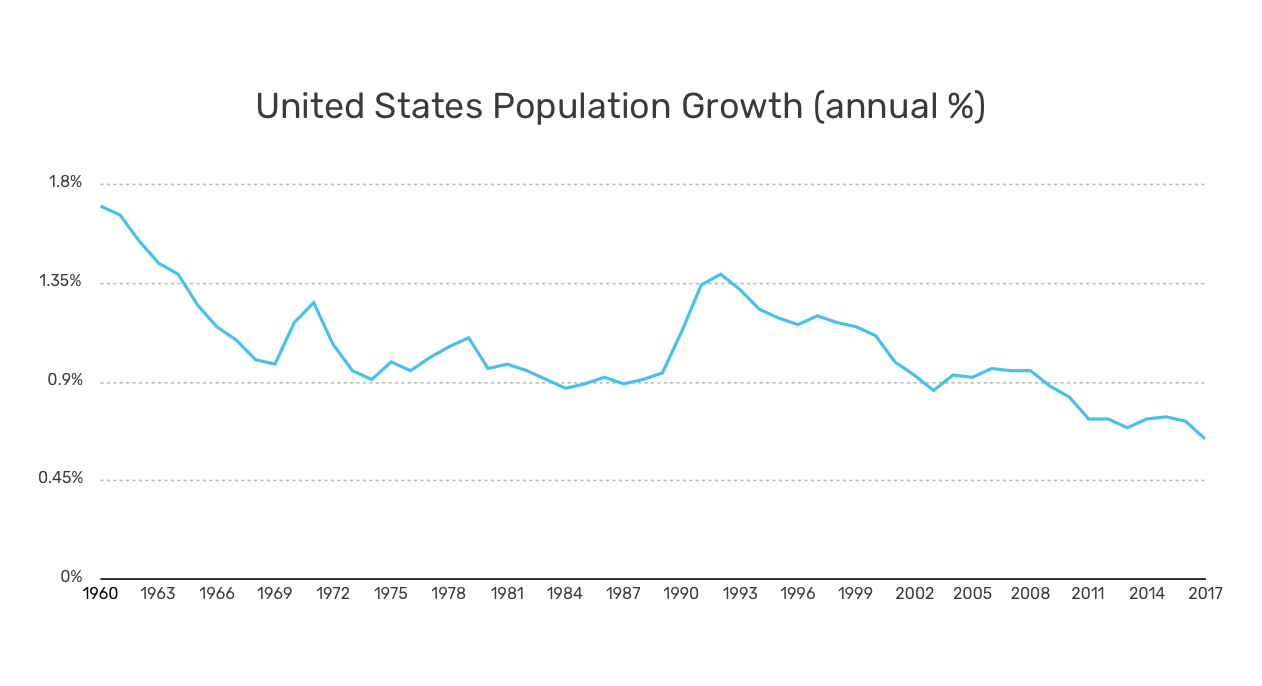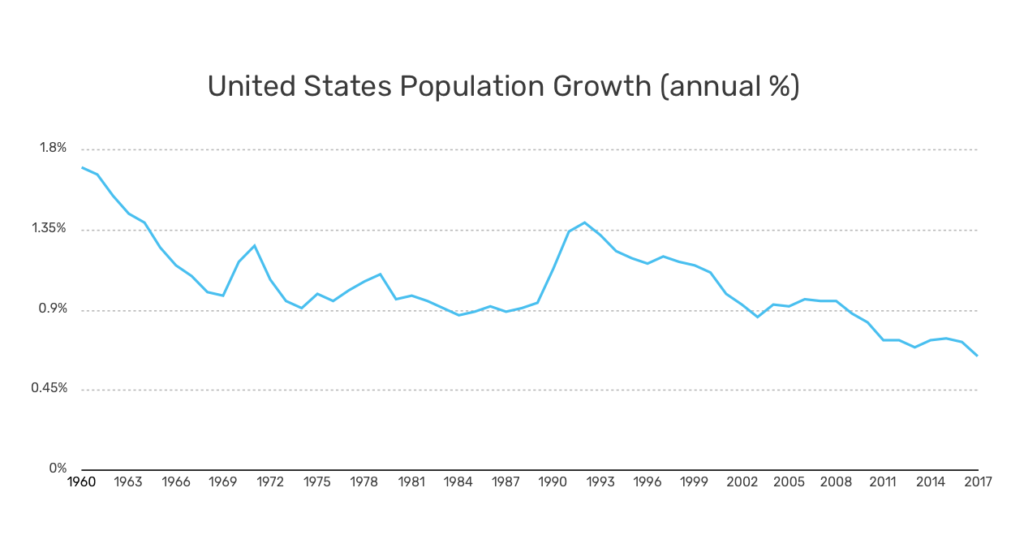 Source: World Bank
What's the bottom line?
If the occupation forecast shows less than .64%, avoid it. The industry is contracting.
If the occupation forecast shows 10% expansion, you're looking at a growth occupation 🎉
If the occupation forecast shows somewhere in between .64% and 10%, the demand will depend on the difficulty of getting qualified to work in that profession.
Why Measuring Your Talent is the Only Thing That Can Save You
This next step requires texting your friends and some self-reflection.
Here's the deal:
Think back over your past 4 years of high school.
What things do you spend the most time doing?
Check this out:
I'm not asking what you LIKE or ENJOY doing.
Instead, I want you to think about how you ACTUALLY spend your time.
Then message 2-3 of the people that know you best and ask them this question:
"If you could describe how I spend my time in 3 words, what words would you use?"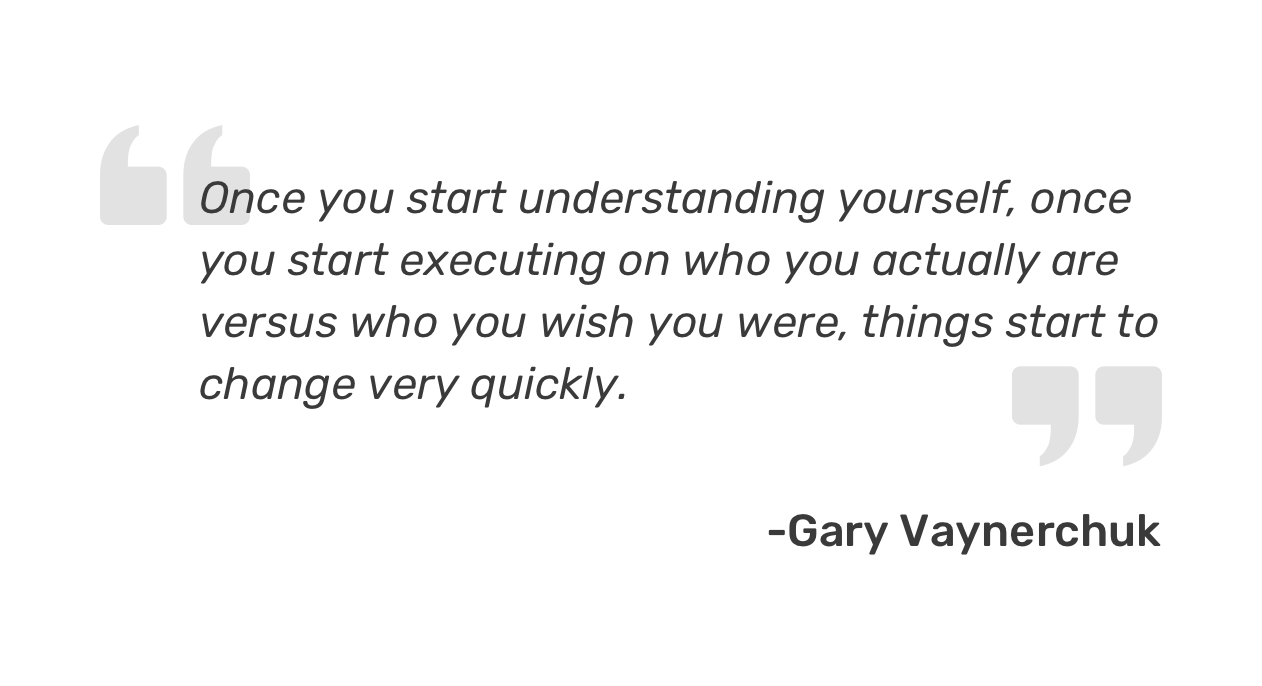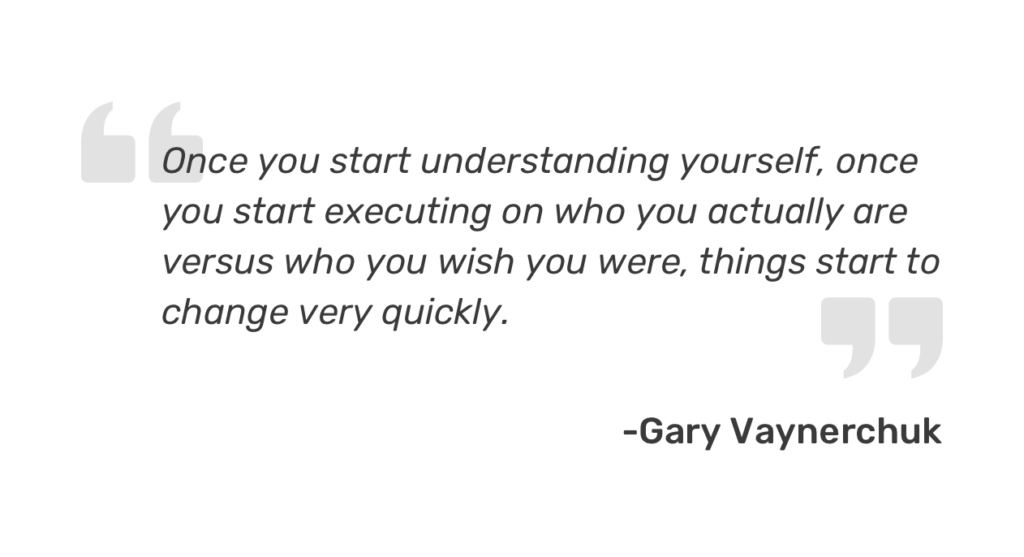 If your time spent doesn't align with what you want to major in, you should seriously reconsider your major.
If your time spent aligns with what you want to major in, but you're headed towards a stagnant/shrinking industry, you might need to be a rock star in your field. Otherwise, consider pivoting to a related field.
If your time spent aligns with what you want to major in and you spend most of your time doing it already, congratulations.
You're on the right track!
So How Useful is Your Degree, Really?
We've covered a lot in this section, but there are really just two points to consider.
Job demand for your skill
How you spend your time
Even if there isn't high demand for your skill, you'll do well if you spend a lot of time working on it. This will make you a rock star in your field.
But if you're majoring in something with high competition, low job demand, and you don't spend much free time doing it, it would be a good idea to reconsider your major.

Everyone knows that a degree from Harvard will make you more competitive in the job market.
But what about a degree from a community college?
In this chapter, I'm going to show you exactly how to measure the degree prestige of your potential college.
We're going to use two different tools to measure whether your school has a prestigious reputation or a lukewarm reputation that might not impress future employers so much.
Check this out:
Use Google Trends to Determine Public Opinion
Research your School's Star Power
Go to trends.google.com and enter the title of the school. Make sure to filter the results from 2004-present.
Look for any spikes in Interest over Time
Next, do a Google search based on those spikes:

[UNIVERSITY NAME] + [YEAR / MONTH]

You can also investigate those spikes by searching Google News

Click Tools
Click Recent
Click Custom range…
Select the month you wish to search in
Then write down the top results for each spike.
Here's a quick example with Northwestern University: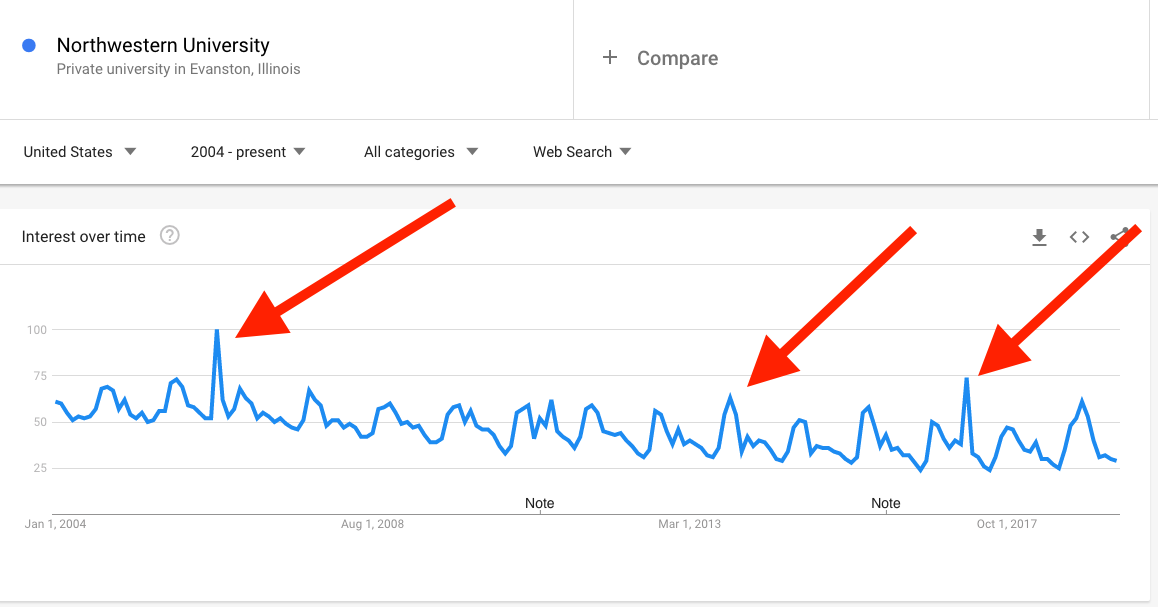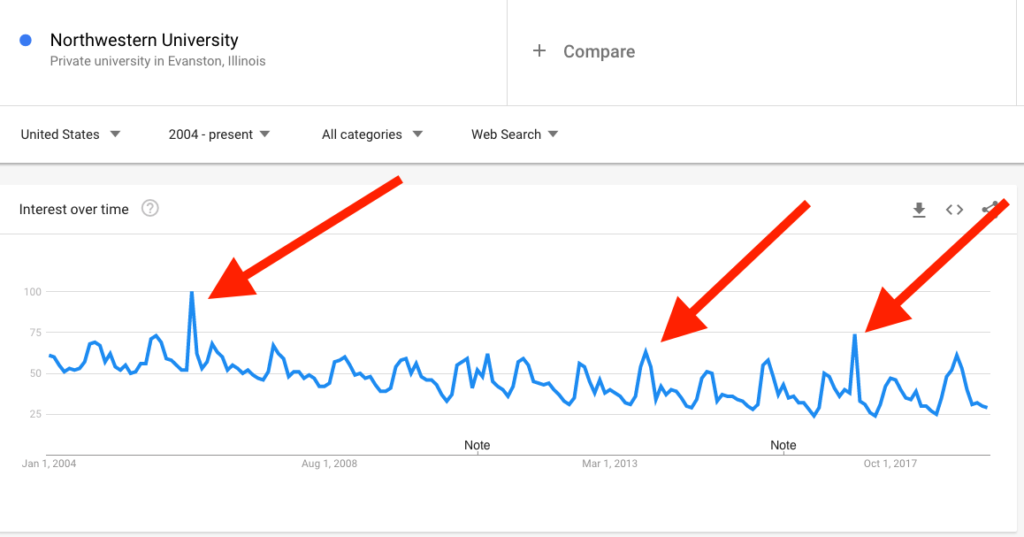 There are three big spikes.
The first one comes from when then Senator Barack Obama spoke for the Northwestern commencement address in 2006.
The second covered a story where Northwestern considered joining the prestigious Ivy League instead of staying in the Big 10.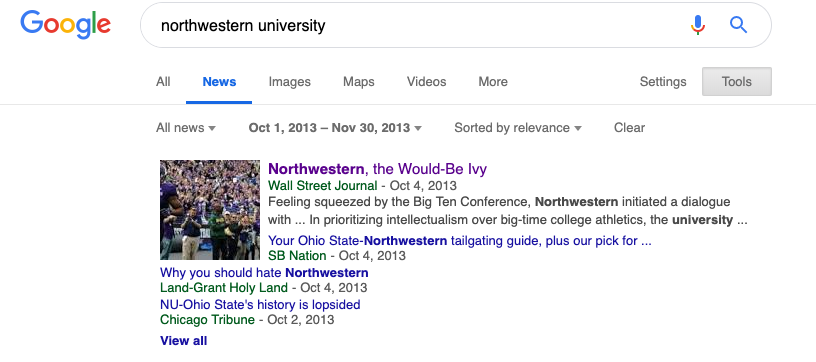 The third spike came from March 2017 when Northwestern won the first round of the NCAA tournament.
How this Score Affects Your Degree Prestige
Now you might be thinking to yourself: what does this have to do with degree prestige?
Measuring PR events will help you understand the most important events your school is known for.
This is the truth about your degree: perception = reality
When we learn how the school gets catalogued in the eyes of Google, we get an inside track to understand what people outside of academics think of the school.
This is important since less than 3% of American jobs are actually offered in higher education.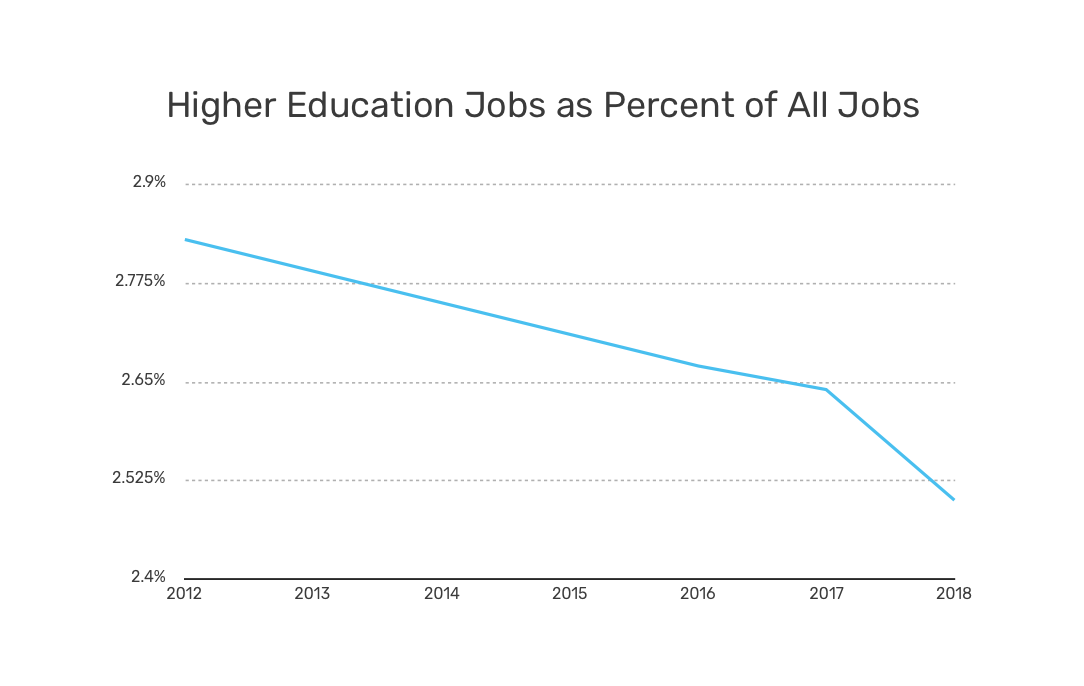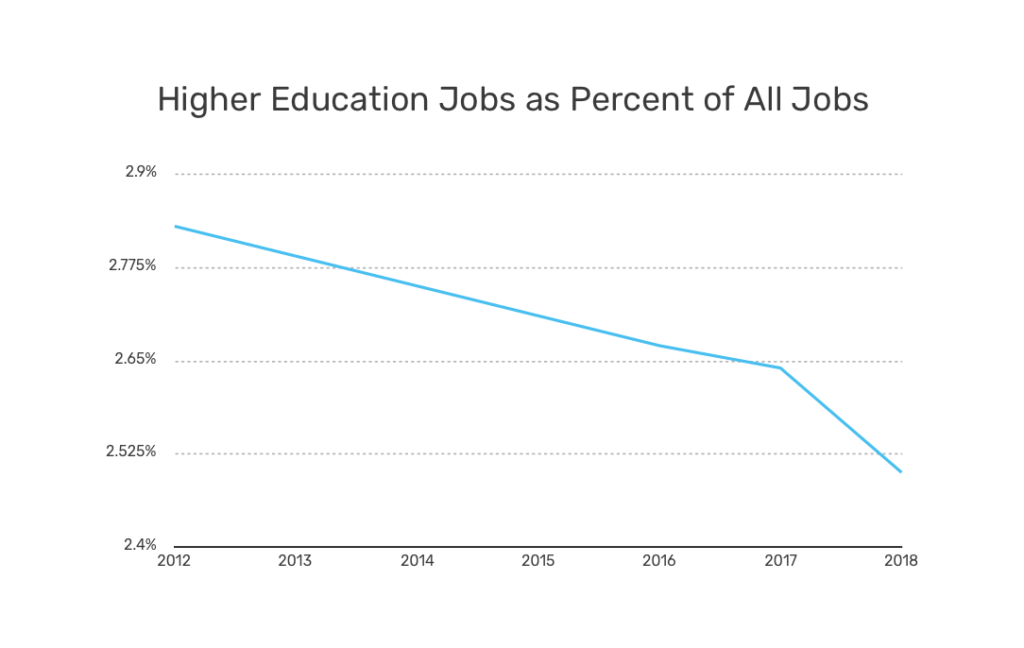 Source: US Department of Labor
Even if you are planning to become a tenured professor for the rest of your life, this approach helps measure a school's star power.
Check Niche for Academic Quality Scores
Niche.com gathers their data from the Department of Education, U.S. Census, and FBI as well as student and parent surveys.
The result is a comprehensive data profile for each school.
Why is this important?
Because it allows direct user input to influence the macro- studies conducted by the US government.
But I'm not going to lie to you..
Academic quality might not matter as much as PR from the eyes of an employer.
So why do I want to measure academic quality?
Academics standards usually determine how picky a school is for accepting student applicants.
Schools don't MAKE exceptional students, they CHOOSE exceptional students.
So highly picky schools select students that are pre-qualified for success.
That's why academics boost the prestige of a school.
Create an Academics Score
Let's head over to Niche.com and enter the name of the school you are researching.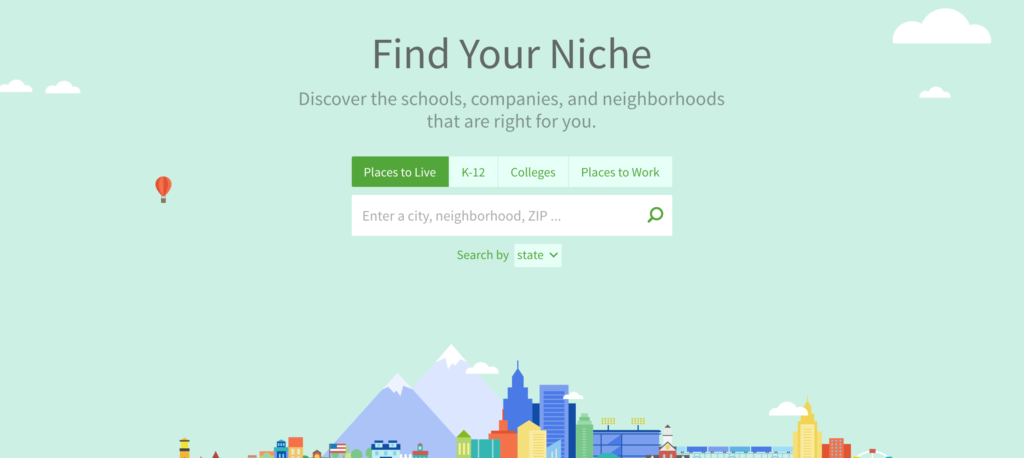 Once you've input that, click Academics and write down the grade given by your school.
Anything better than a B- should be considered pretty good.
Interpreting Your College Prestige Results In 2 Minutes
Check out this chart to interpret the results of your findings.


It's up to you to decide whether a Google trends report is positive, negative, or neutral.
Once you've done that, you can use the emoji table to measure the college's prestige.
Here's the deal:
If you find extremely negative news in your college's Google Trends report over the past 15 years, you can be certain this will negatively affect an employer's view of the college as you begin looking for your first job.
Even high academic scores with Niche won't help.
If the Google Trends report doesn't bring up overwhelmingly positive or negative feedback, the Niche score becomes more important because it suggests how much you will actually learn.
A positive Google Trends report suggests momentum for making it easier to find a job once you graduate.
Coupled with a strong Niche report, this is a major positive sign for taking next steps.

The College Board reports that books and school supplies at public and private colleges will cost you about $1250 annually.
But how do you know if the actual program at College A fits your needs?
Do they have a strong reputation for helping their students?
Or is it a competitive environment where they expect you to sink or swim?
Only you can decide what works best for YOUR learning needs.
In this chapter, I'm going to teach you a foolproof method for measuring program quality.
You'll get the truth about your program's student engagement.
You don't have to leave your house or make a phone call.
All the templates and strategies are here.
Check this out:
Use Ratemyprofessor to Scope Out the Department
Most students use ratemyprofessors to pick the best classes once they're enrolled in school.
And many schools have ratings judging the overall quality of the school.
But VERY FEW students do their homework to check out a department BEFORE they enroll.
Why is this important?
You can enter the program with no illusions about what the environment is like.
There are two steps:
Read reviews for teachers in the specific department.
Read the tags associated with the professors.
Teacher behavior starts with the example of the leadership of the department chair.
So while there will always be all-star and low-rated teachers, trends with specific tags suggest a department-wide standard.
Let me show you what I mean with a quick example.
Check out these ratings for Pasadena City College Chemistry classes: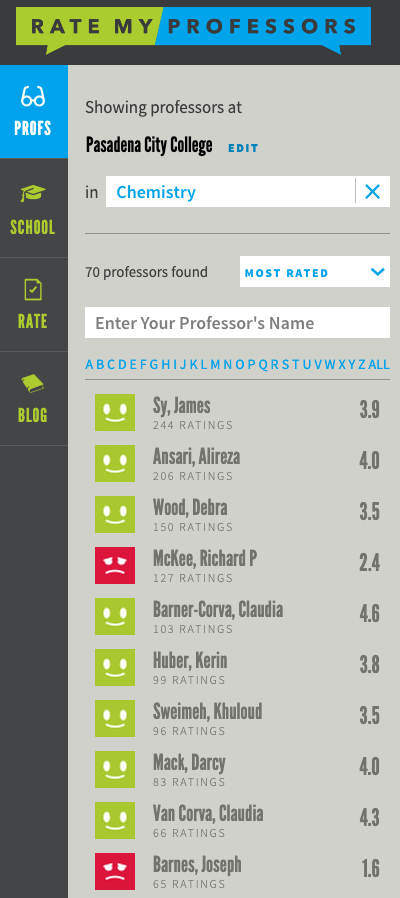 In this case, teachers on this list are known PRIMARILY as tough graders:




















This makes me think that students find most of these teachers are either highly demanding or better off avoiding.
So take a close look at what recent students say about the class.
Are their viewpoints insightful and considered valid by others?


Does their comments reflect an unreasonable or undescriptive point of view?


There is no right or wrong answer here. The only thing that matters is that you do your research.
That way, you'll know what you're getting if you decide to enroll.
Get Honest Program Responses with LinkedIn
In this section, I'll show you exactly how to find CURRENT students to message and give you a script to get real responses.
Let's dive in.
Find Current College Students to Message
You can start by logging in to LinkedIn.
You'll want to set up an account there if you haven't already.
This gives you a professional social media profile to search for students.
That's important since you're going to need to do some cold messaging.
Once your account is set up, here are the steps for finding students.
Type the name of the school you are researching into the search bar
Click the "All Filters" tab at the top of the screen
Scroll down to Schools and click the name of the school you are researching
Click apply to refine your search query
Here's a GIF of the four steps above:
As you can see above, this search technique even works for small community colleges.
Here's the deal:
You're looking to find students, not professors.
So not all the search results will be relevant.
So take time to verify who you're contacting before you message them.
Receive a 39% Higher Response Using this Template
Once you find a student, you can send a message by clicking on their profile name and clicking "Connect."
LinkedIn might try to make you pay for a subscription if you don't have a direct connection, but that isn't necessary.
Just click "More…" on their profile home page and add a note after clicking "Connect" to customize your invitation.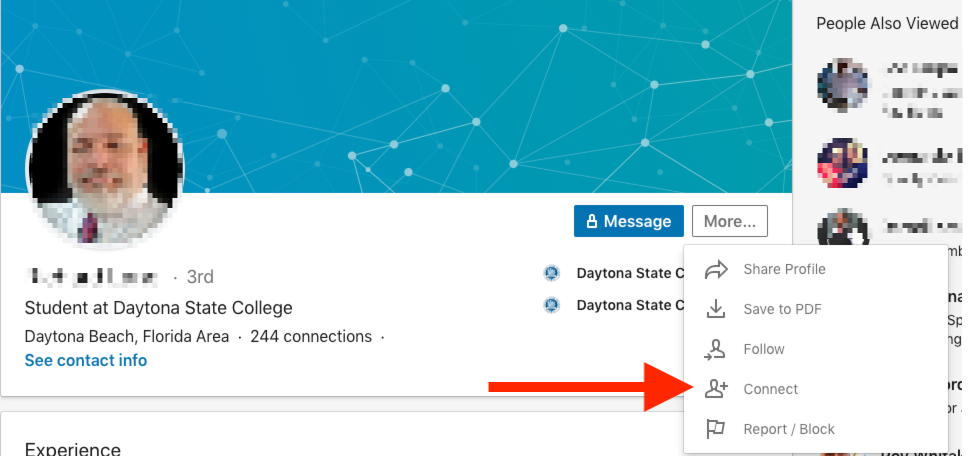 What should you write?
I'm not going to lie to you…
Getting a message from a stranger on LinkedIn isn't easy.
Template:
You will have 300 characters, and here is exactly how to use them:
Hi, I'm considering enrolling at [SCHOOL NAME]. I used ratemyprofessors to check out the school. [BRIEFLY DESCRIBE RESULTS]. But college is expensive and takes time, so I want to hear from someone that understands what [SCHOOL NAME] is REALLY like. What's your take?
Even with this approach, I would only expect around a 20% response rate.
But the feedback and insights will be well worth it!
Here's a Google Sheets doc you can use to track the students you reach out to on LinkedIn
The best part of these two strategies?
By checking student reviews on ratemyprofessors, you get public knowledge that students wrote for other students.
But asking for an insider's take on LinkedIn can get a broader picture of the program, plus some things students might not say publicly.
This way, you get both sides of what it's really like to attend a college.

No matter what school you choose, college tuition inflation ensures there is almost always a cheaper option.
Here's the deal:
If you know what subjects matter most to your education, you can outsource the less-important classes.
And what exactly are those less-important classes?
Gen Eds.
We all have to take them.
But most students hate them.
I'm going to outline a strategy for you to save a ton of cash and minimize your exposure to general education courses.
The best part is you can crunch the numbers RIGHT NOW with my proven strategy.
And I'm going to break it down for you, step by step.
Find College GenEd Requirements
Finding Gen Ed courses is extremely easy.
Here is the Google search term to use: [SCHOOL NAME] + general education requirements
Categorize Classes Faster with Google Sheets
Once you have your list, use this Google Sheet to make a quick list of all the courses at your college that are considered Gen Ed requirements towards a bachelor's degree.
Most schools include at least ⅓ of the total 120 hours needed as Gen Ed courses.
Others go up to ½!
Define your Priority Classes to Transfer
Make sure to organize your Gen Ed classes in order from most important to least important.
For example, if I really love math and hate writing, I would put my least favorite courses at the top of the list (English).
Those English courses are my targets to transfer.
Calculate College Tuition Costs with 1 Easy Search Query
Let's fill in your Google sheet.
To find credit hour cost at the school you want a degree from, use the following search term:
[SCHOOL NAME] + credit hour cost
You'll probably find a result like this to enter in your sheet: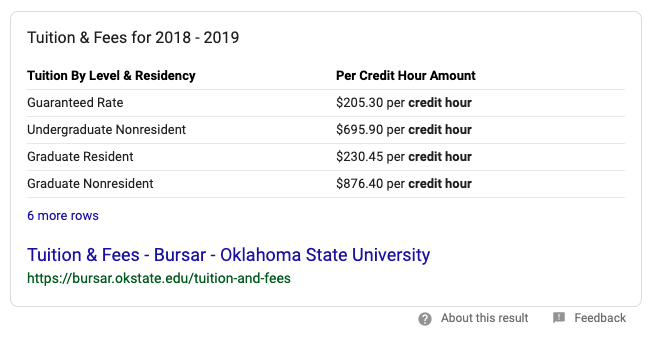 But if you don't, no worries.
For example, this is the college tuition costs result when I search the credit hour fee at Stanford:

To get a credit hour rate, I divided the tuition fee by 36 (assumes 18 credits per semester).
If you only find a semester rate, I would divide the semester fee by 18.
Then you can enter this figure in Column D (it should be the same for all classes at the same college)
Why is this important?
By calculating your cost per credit hour, you'll be able to measure the value created by transferring in courses from elsewhere.
Want to figure out where you can transfer courses from?
Keep reading…
Find Replacement Courses
You'll want to make a profile on Transferology to complete this section.
Their system will ask you what school you attend, so assume you're already enrolled at the school you're researching.
Then you can start adding the classes you'd like to transfer (and pay for more affordably).


In this case, I was able to find 559 matches for colleges offering courses that Ohio State University would accept as transfer credit for the two English courses I selected.
I can sort these 559 schools based on location and cost, then fill in the spreadsheet with the results.
BONUS: If you already completed courses for AP credit in high school, you can also confirm if the school you're interested in would accept these as replacement credit toward your degree.
Just enter your finished courses as replacement courses on the spreadsheet and check to see if your courses will transfer via Transferology.
The best part?
You can immediately see your potential savings on courses you most want to transfer out.
Confirm Replacement Courses with Registrar
Most schools have a transfer credit policy, but Transferology already took care of that for us by giving us an unofficial course audit.
Thank you Internet 🤗
Even better, my research found that many schools including the University of Missouri, Colorado State, and The Ohio State University directly link to Transferology.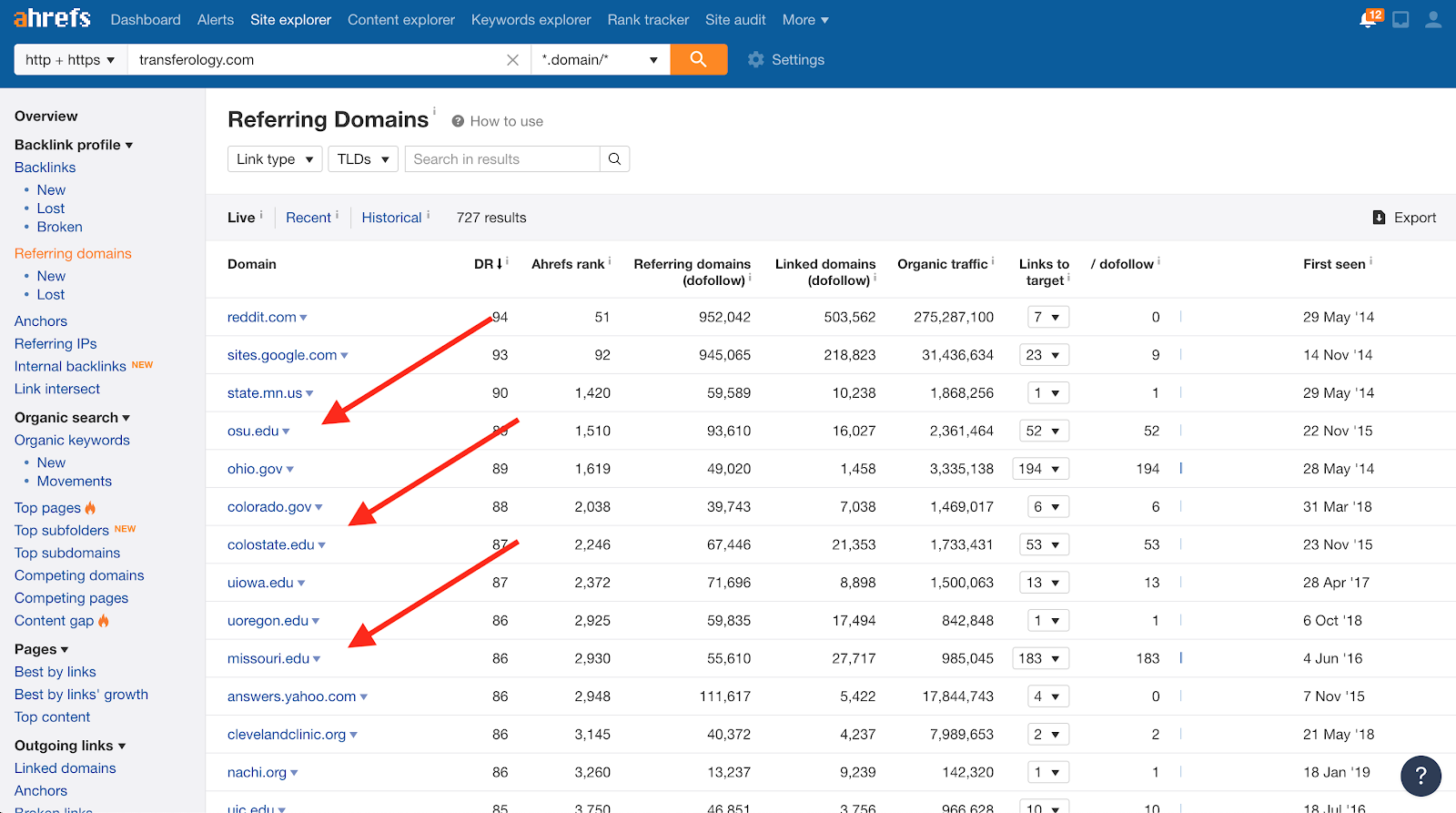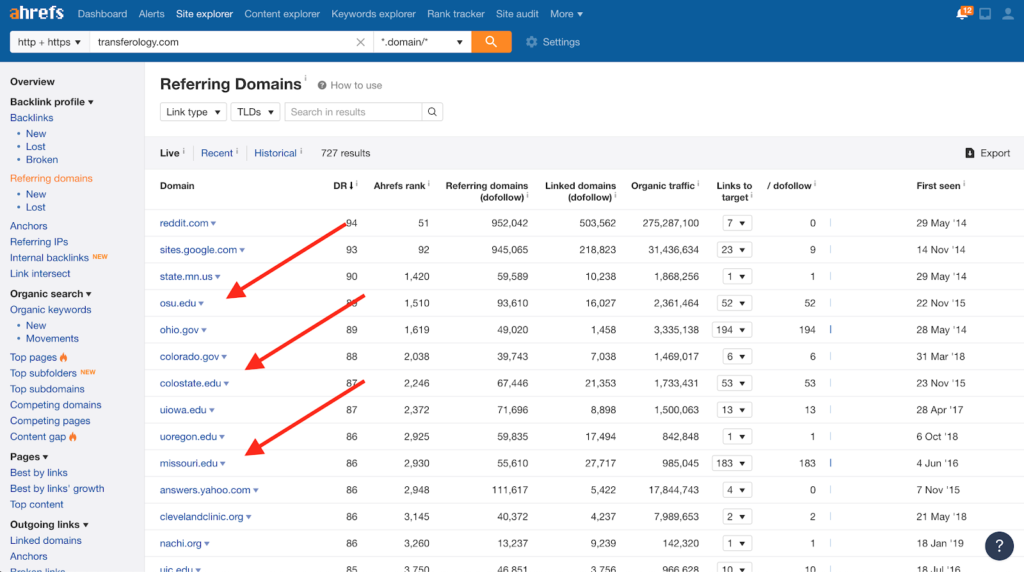 To find out if your school acknowledges Transferology as a legitimate source, use the following Google search query:
site:[YOUR SCHOOL'S WEBSITE] + "transferology"
Either way, I'd recommend directly confirming with the school registrar by sending them a quick email.
Template:
Dear [SCHOOL NAME] Registrar,
I'm getting ready to enroll in college and wanted to confirm which of my completed courses would transfer into [SCHOOL NAME]. Do you consider Transferology as the official authority for transferring courses into [SCHOOL NAME] or is there another process I should consider?
Thank you for your time.
Best,
[YOUR NAME]
This is the truth about transfer credit:
Once you've done the research, you can easily determine which colleges will make replacement credit as simple as possible.
You'll also know which courses will transfer the easiest and likely save you $5,000-$10,000 in tuition costs from more expensive colleges.

The College Board reports that students typically spend about $3,000 annually ($2,730 at private colleges, $3,270 at public colleges).
But we all have different priorities going to college no matter how we choose to have fun.
Why is this important?
College is about building skills that help others, and who you know influences where you can go to help.
How to meet new friends is always the big question.
In this section I'll show you how most students on your campus socialize.
So let's dive into some extremely simple ways for measuring campus entertainment options.
Instagram
You already know that Instagram is all about showing off the perfect and the cool lifestyle we all aspire to.
We can also use it to dig into what the exterior of your school actually looks like according to the people who are there.
To do this I recommend using the Keyword Tool . This free tool will supercharge your search process to find the right tags and influencers that live on the campus you're researching.
This is a freemium product, but the unpaid version provides more than enough information to get you going.
Here are the steps for using Keyword Tool:
Search for these keyword ideas with the Hashtags tab:

Specific school
School hashtag
City name
Theme [school name] + [subject]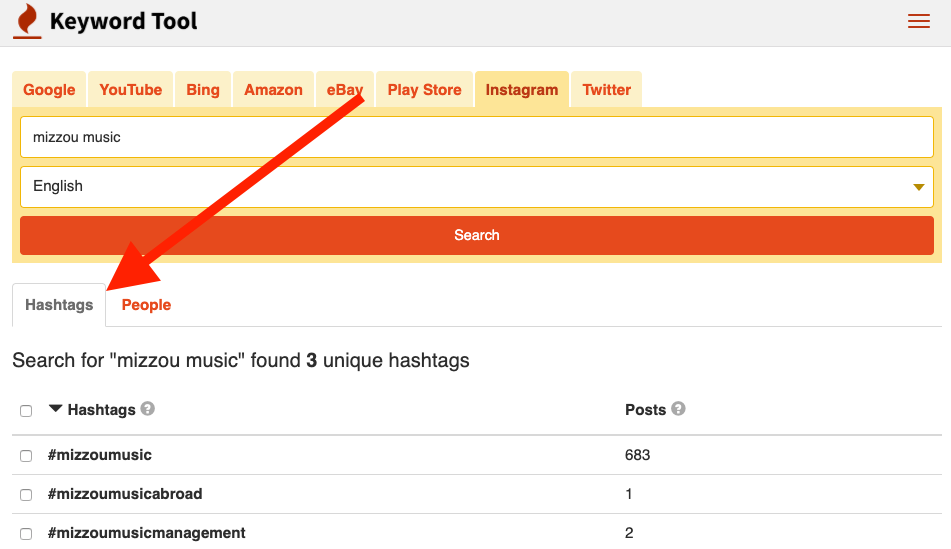 Browse popular account with the people tab:

Search the People tab
Click top posts for popular hashtags
Focus on people in your intended major if possible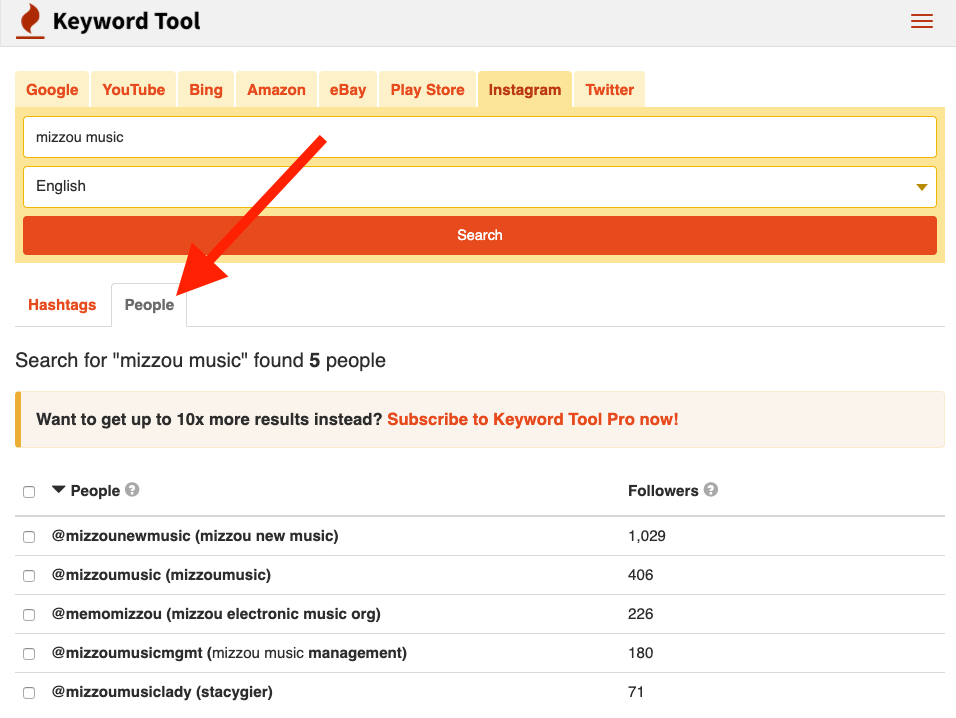 Take the Keyword Tool results from steps 1 and 2 to browse through Instagram.
Examine the details of the photos. Are there lots of fraternities? Are students at sporting events? What locations turn up?
For example, the University of Missouri values sport like Track and Field (but already looks forward to football), celebrates graduation achievements, and loves Shakespeare's pizza.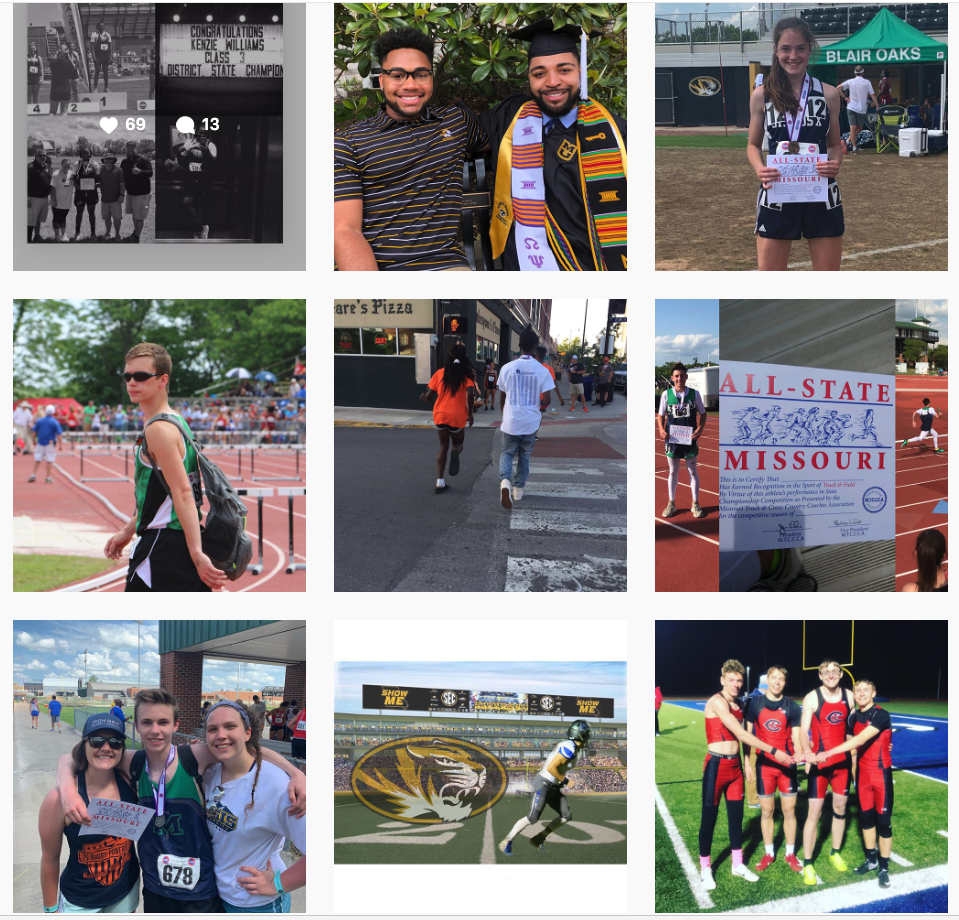 But if you dig deeper you'll realize that Mizzou is also a sorority town.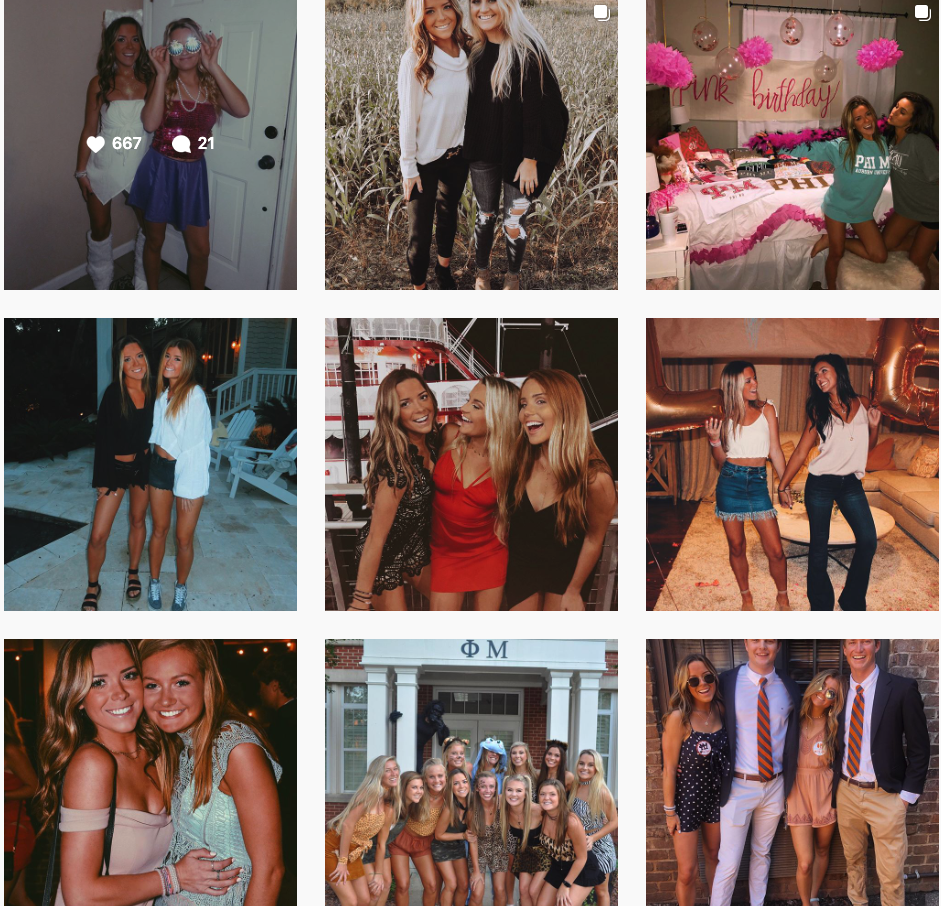 The results will show you what you can expect to encounter should you enroll there.
Yelp
Yelp can give you a more objective idea about what it's like to attend school there.
The power of Yelp is that the information comes from a completely different audience.
For example, Instagram would say Mizzou is all about Greek life.
Well, is it true?
Yelp can help you decide.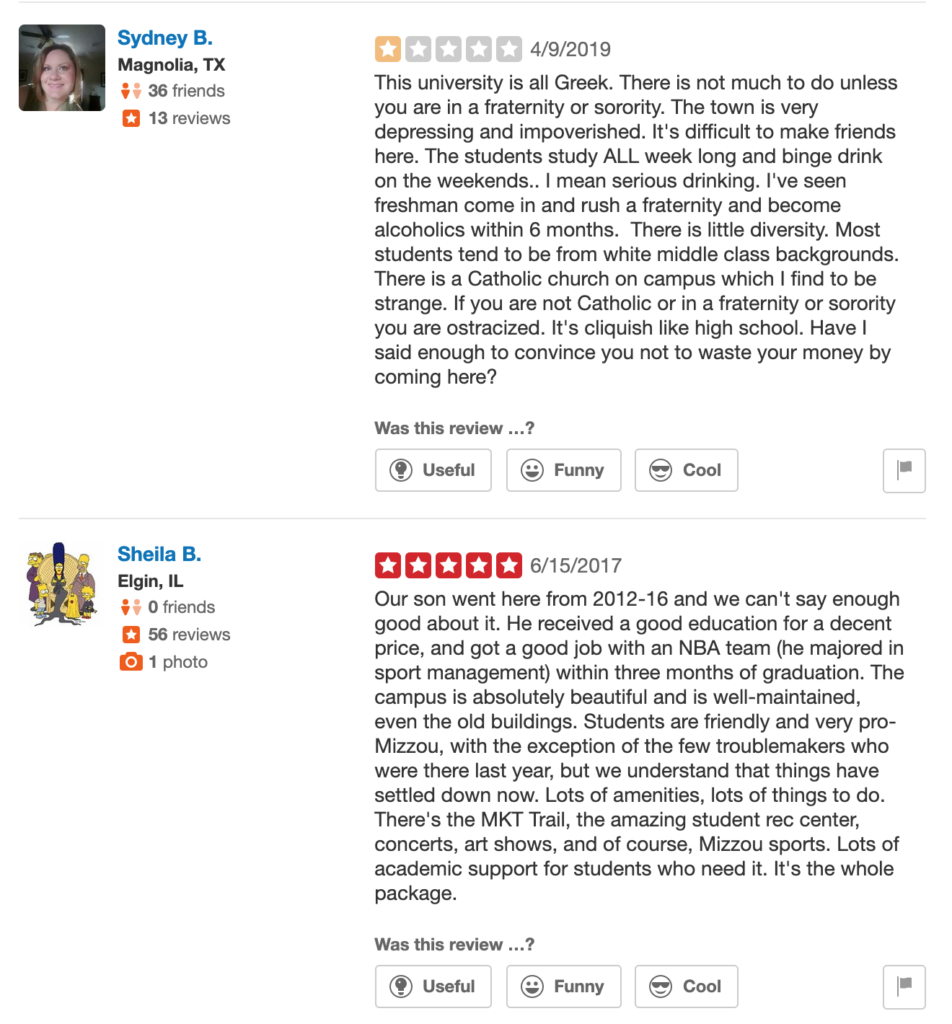 The platform tends to get reviews from recent graduates and parents instead of students, but the results speak to a larger truth about the school.
By reading the reviews, you can know what to expect should you choose to attend.
For both Instagram and Yelp, the lack of information can be just as informative as actual user results.
So if you don't find much using these tactics, it's possible that the school you're researching hasn't made a huge impression on its students.

You can get scholarships at the national, state, and local levels, but how will you maximize your quantity of scholarships received?
Here are 6 strategies to boost your scholarship exposure:
Know what makes you special
Then emphasize those qualities and focus on scholarships that promote those qualities. Some ideas:
Awards you won
Ethnicity / heritage

African-Americans
Hispanics
Latinos

First in family to attend school
Hobbies you have
Languages you know
Leadership experience
LGBTQ orientation
Military veteran
Music / theater participation
Religious participation
Social media presence
Sports participation
Unique travel experience
Volunteer experience
Search for specific schools you want to attend
Use this search query:

[UNIVERSITY NAME] + merit scholarships

Here are the typical standards for getting this kind of scholarship:

Rules-based qualification using ACT / SAT scores and GPA
High payouts
Easy to qualify for
Target big brand scholarships
For a comprehensive list see Harvard grad Francesca Fulciniti's article . Here are some popular options:

Questbridge
Coca-Cola
National Merit
Gates Millennium
Foot Locker Scholar Athletes
Dell Scholars

Lower likelihood to win
High payouts ($1000s-$10000s)
Read the details to decide if applying makes sense for you
Focus on small local scholarships
Use these search queries:

[STATE] scholarships
[CITY] scholarships
[NEIGHBORHOOD] scholarships
[SCHOOL DISTRICT] scholarships

Higher likelihood to win
Low payouts ($100s-$1000s)
Access popular scholarship resources and advice
Myscholly

$2.99 monthly
It's an app
No spam

Scholarships.com

Free search
Higher possibility of spam

To avoid spam, here are some typical offers to IGNORE:

You are preselected, but you didn't apply
Your scholarships come with upfront fees
You're requested to pre-pay taxes on scholarship
Your scholarship will be delivered via check
Now:
Let's do the math.
How much of your scholarships received will contribute to tuition at the school you're considering?
You'll want to add the numbers, but also consider if the scholarships will be recurring beyond freshman year.
Once you've added the figures, you can accurately calculate the impact of your scholarship at any school in the country.

So that's my ultimate guide to considering college tuition costs.
Research complete!
If you've completed this guide, you know what to REALLY expect if you enrolled at any college in the country.
Most importantly you know that the most expensive college is the one that doesn't fit well with your budget and priorities.
But I want to turn it over to you: what did you think about this guide? Or maybe there's something I missed.
Let me know by leaving a comment below.
And that's it for my College Guidebook. Congratulations. You made it to the end!
Please follow and like us: